Created with you in mind
Schools out for summer!
While at first this may seem like a dream to your kids since they hope to sleep in, laze around, and do all their favorite things… we all know that boredom strikes earlier rather than later. To combat this boredom and help parents keep your children entertained (and learning) we have created a list of fun activities you and your children can do this summer to continue learning about money!
For The Whole Family:
DIY Spend, Save, Give clear jars: this helps kids visually watch their money grow. Yesterday they had only a $5 dollar bill, the next they have a $5 dollar bill and two quarters, and after that they have a $5 dollar bill with two quarters and a penny! When they fill their Save jar, take them with you to put in their bank account to teach about safe-keeping and interest (100% deposits are insured at MMFCU).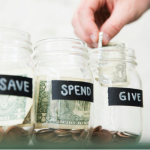 Lemonade Stand: You've probably had a lemonade stand yourself as a child! This is a great way to get all of the kids involved and has many of valuable learning moments; the cost of ingredients/materials (lemonade, sugar, water, pitchers, cups, signs), how long it takes to make the product, how much you could sell it for (you could even 'clearance' the product at the end of the stands operating hours), counting up the days earnings, and deciding how to save, spend, and give!
Grocery Shopping Made Educational: The whole family can be in on this fun, plus you have to grocery shop anyways, so why not use it as a teaching opportunity? For your younger kids, bring pretend money (monopoly) or real cash so they can see how dollars and cents work in real life. Show how different name brand vs. store brand items cost and what items are more expensive. The older kids can be shown where to find the cost per unit price, how coupons/specials can save you money, and how to curb impulse purchases by sticking to a list
Savings Competition: Encourage your kids to save the most money by end of summer and incentivize with a bonus from parents, OR you could match an amount saved.,
Pizza budget: Make a pizza (or print this out) and explain basic budgeting with the slices (wants, needs, savings) 20/30/50 rule
For the Youngin's
Counting Coins: Gather up some coins and walk your child through the names of different coins, how much they are worth, and some of the different combinations that will make up the total in the middle. Download the printable here.
WHOAH, Where'd My Money Go?: Print out this game and follow the instructions!
For the Older Kiddos:
Go House Hunting around town or online: Hop on Zillow or drive around your town and talk about the different costs of houses taking into account location, square footage, age, etc. We also have a free mortgage calculator that can show your child just how much owning a home would cost. BONUS TIP: compare these costs to rentals in your area
Zogo: Have your child download the Zogo App. Everyday they can log on to learn about financial topics. When they complete the short quizzes they are rewarded with pineapples that can be exchanged for real-life gift cards to their favorite stores. Use our access code: MMFCU
Miss a seminar? No worries! We have them recorded here.
You can learn on-the-go, on your terms, and get paid while doing it! Learn more about Zogo.
Read our 2022 Annual Report.